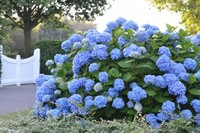 Hydrangea macrophylla 'Bailmer' PP15298
A mop-head type hydrangea with the unique ability to bloom consistently on both old and new wood. The result is a plant that provides beautiful flowers all summer long. The flowers grow up to 8" in diameter.

Prune to shape after flowering. Pruning time: summer after flowering.
Categories
Shrubs
Features
Available in 2 gallon pot