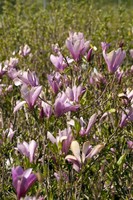 Magnolia kobus var. stellata
In April its pink buds open to double white fragrant flowers of 25-30 petals, 3-4 inches in diameter. An upright and densely branched plant, it has dark green foliage that shifts to bronze in fall.

For a formal appearance, shear annually after flowering. Pruning time: winter.
Categories
Trees
Features
Available in 2 gallon pot